I GREW UP IN THE MARCHE, A REGION OF ITALY WHERE "EVEN THE VIEW IS A RECOLLECTION OF GENIUS AND ART".
THE AREA IS RENOWNED ACROSS THE WORLD FOR ITS FOOTWEAR, THANKS TO ITS HISTORY, CULTURE AND THIS DEEP-ROOTED INDUSTRY. RHYTHMS MARKED BY KNOWLEDGE, CREATIVITY AND ALSO BY NECESSITY. YES, HISTORY HAS DEFINITELY BEEN MADE HERE.
MY FAMILY'S CREATIVE WORKSHOP CAME ABOUT IN THIS CONTEXT, IN THE EARLY 70S. SO MANY IDEAS AND HISTORIC ICONS WERE CONCEIVED WITHIN THESE WALLS, INFLUENCING THE WARDROBES OF SEVERAL GENERATIONS.
AS THE SON OF A SHOEMAKER, I CONTINUED ON THIS PATH WITH MASSIMO MELCHIORRI DESIGNER, A DESIGN FACTORY THAT IS GENETICALLY INCLINED TOWARDS EXCLUSIVITY AND LUXURY.
A CREATIVE SPACE IN WHICH UNIQUE, WELL DESIGNED PRODUCTS ARE BORN.
I CONSIDER DESIGN, AND MEN'S AND WOMEN'S LUXURY FOOTWEAR, TO BE CULTURAL EXPRESSIONS, A HERITAGE TO REDISCOVER, APPRECIATE AND RENEW.
FOOTWEAR AS A CAPTIVATING MARRIAGE OF ARTISAN TECHNIQUES AND INNOVATION, WHERE TOUCH INTERACTS WITH THE DETAIL AND WHERE COLOURS TAKE ON PARTICULAR DEPTH.
AT ANY MOMENT DURING THE DESIGN AND PRODUCTION PHASES, THE INNOVATIVE AND PIONEERING SPIRIT MAY BRING ABOUT CHANGES, NEW SOLUTIONS, IDEAS, UNEXPECTED CONTRIBUTIONS.
AN ANCIENT PROFESSION CARRIED OUT BY YOUNG PEOPLE WHO HAVE FRESH THOUGHTS, IDEAS AND MINDS.
TOGETHER, EACH DAY, WE OFFER OUR INTERPRETATION OF GOOD TASTE, CAPTURING A LIFESTYLE WITH THE PLEASURE OF DESIGNING AND CREATING SOMETHING UNIQUE.
MY INSPIRATION COMES FROM LISTENING TO AND OBSERVING LIFE ITSELF, A TRANSPOSITION OF REALITY SEEN THROUGH EYES THAT ARE AHEAD OF THEIR TIME, WHERE THE PRODUCTS OF MAN AND NATURE CONTRAST, BORROW AND HARMONIZE WITH EACH OTHER TO TAKE ON FORM AND SUBSTANCE THANKS TO IDEAS, SENSITIVITY, KNOWLEDGE AND DESIGN.
THE IMAGE OF THE BRILLIANT ARTISAN IN HIS WORKSHOP, WHOSE HANDS ARE MARKED BY TIME, DOESN'T MAKE ME NOSTALGIC BUT CREATES A FEELING OF RESPECT, GRATITUDE AND LOVE. THIS IS THE CULTURAL HERITAGE THAT FUELS ME AND THAT I NOW WANT TO RENEW.
OVER TIME, IMPORTANT FASHION HOUSES HAVE CONSOLIDATED PERSONAL AND PROFESSIONAL RELATIONSHIPS WITH ME AND MY STAFF, A PRESTIGIOUS PATH ON WHICH OUR IDEAS HAVE BECOME PART OF PUBLIC HERITAGE, ENJOYING INTERNATIONAL RENOWN AND ESTEEM THANKS TO THE CREATION OF AN INIMITABLE PRODUCT. CULTURAL EXCELLENCE AND KNOW HOW THAT I HAVE REVISITED WITH A CONTEMPORARY TWIST.
Massimo Melchiorri
art director
I LOVE TO THINK DIFFERENTLY AND PUSH MYSELF INTO DIFFERENT AREAS OF DESIGN, SOMETHING I ALSO ASK OF THOSE WORKING WITH ME. I LOVE TO CHALLENGE MYSELF AND DRAW COMPARISONS. TO EXPERIMENT, RESEARCH, ANALYSE AND FIND NEW PATHS BY CHANGING THE RULES.
My Team
Paolo Andrenelli
Designer
Alessia Trovellesi
Web & Account Manager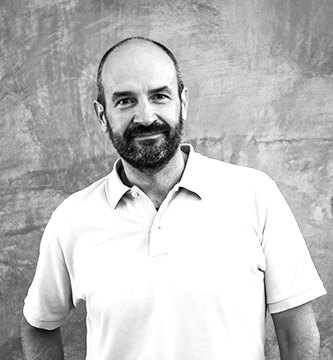 Paolo Formentini
sample maker footwear
Maruska Camilletti
Production Designer